Too busy running your business to grow your business?
In a customized two-day, one-day or half-day session, you can start changing your company's annual results. Invest in a highly-leveraged strategic planning workshop now, and reap the rewards for years to come.
Do You Need This?
Are you frustrated with the lack of big, new ideas to drive your business growth?

Is a lack of innovation in the way you go-to-market impacting your ability to grow revenue?

Do you keep doing the same things year after year with little progress to show for it?

Are you comfortable that you have a solid plan in place or are you and your team "winging it" when it comes to marketing?

Are you taking advantage of the latest economic forecasting to make smarter, more confident decisions for growth?
The Chief Outsiders Foundation for Growth™ Workshops
These customized sessions are designed to help you and your management team identify and prioritize the core tenets of a game-changing growth plan – mostly from what you and your team already know!
Facilitated by a Chief Outsiders Chief Marketing Officer
Market-based approach to planning that can include:
Competitive review, analysis and assessment of your company's positioning vs. your competitors

Targeted action items to jumpstart your growth

Prioritized growth target recommendations

Recommendations to better align your sales and marketing for better results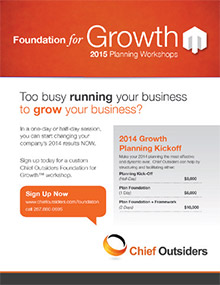 Download our Foundation for Growth Workshop Brochure to learn more
Download
Annual Growth Planning Kickoff
Make your growth planning the most effective and dynamic ever. Chief Outsiders can help by structuring and facilitating either:
Planning Kick-Off
(Half-Day)
Starting at $3,000
Plan Foundation
(1 Day)
As little as $5,000
Plan Foundation + Framework
(2 Days)
$10,000 and up